The delight an unusually mature 18-year-old can bring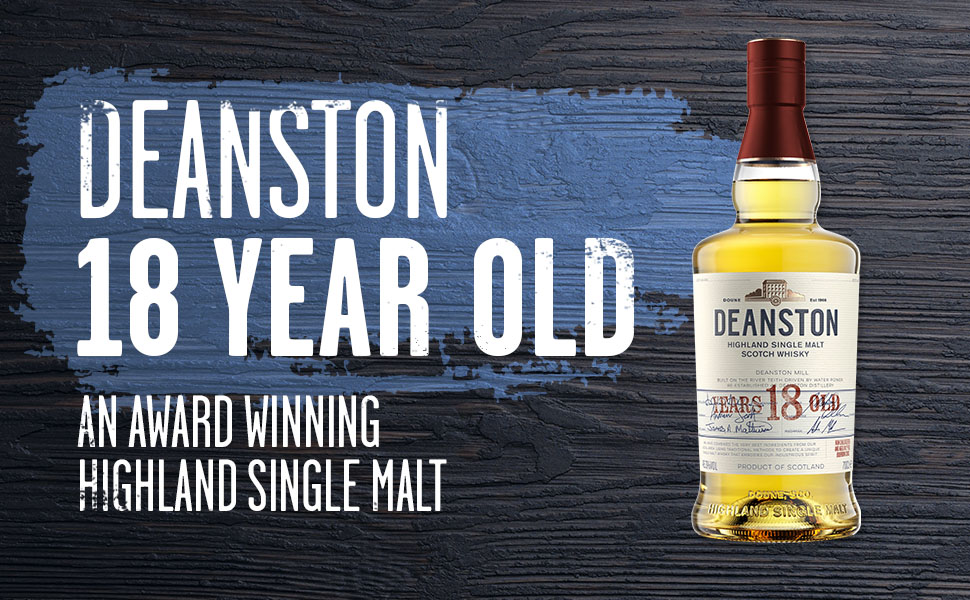 From the uncommon distillery comes an exceptional whisky – nothing outlandish about that.
The current home of this atypical highland distillery was a cotton mill until the mid-60s. The Perthshire community of Deanston were facing dire times, until a the company of Brodie Hepburn, a Glasgow blender and distiller, who already owned the nearby Tullibardine and Glen Deveron in MacDuff bough the mill, primarily for warehousing. With whiskey being seen as a sound business, and an ideal location, a distillery was set up there before long, thus giving birth to Deanston.
The former cotton mill had the good fortune to be sited on the Teith, and when tested, the soft water of the river was found to be good enough, not only to power the operations, but also provide one of the main ingredients. The honest and passionate folk of Deanston quickly revealed the potential to become true makers.
The distillery was bought out in the early 70s by Invergodon, and operated for about a decade, when it fell silent for nearly another decade. In 1990, it was purchased by Burn Stewart Distillers, who went to great lengths to bring it back to life, focusing on keeping traditional methods.
Neither Burn Stewart nor Deanson would be the first names anyone thinks when conversing about Scottish whisky – in today's terms, they remained a niche enterprise. Driven by huge passion and commitment (and probably good whisky) – even more the reason to seek them out for a tour, and a few samples, and a bottle or few.
One of the distillery's products that I had the good fortune to be served by a friend, was Deanston's 18 Year Old Single Malt that has been matured in ex-bourbon casks. To be precise, 16 years in traditional oak whisky cask, then an additional 2 years in bourbon cask.
It gave so much more than I expected. On the nose, it came across sweet, fresh, sugary and bit flowery. The palate however revealed another set of aromas, starting off a bit nutty, that turned to gingerbread, honey, then finally leaving the lingering of soft spices. Some claim sensing green grass, vanilla, white pepper, oranges – who knows… it's plausible, as there was much depth yet to be explored, alas we were near the end of the bottle. One thing is for sure – long fermentation (100 hours) and slow distilling, using local ingredients results in a maturity not many 18-year-olds can claim.
This award-winning single malt is a credit to the Master Distiller and team.
It won the Master Title at the 2021 Scotch Whisky Masters and the Gold medal at the International Wine and Spirits Competition.
Further info: https://deanstonmalt.com/collections/all-products
All materials reproduced in good faith – copyright of their respective owners