The Hole in One watch by Jaermann & Stübi is a luxurious and innovative timepiece that is perfect for golfers and watch enthusiasts alike.
Whilst HO1 is by no means a recent addition to the range, it still commands much respect both on and off the green. The watch is designed to be worn on the golf course and provides golfers with a unique way to keep track of their time.
The Hole in One watch is powered by a Swiss-made mechanical movement that is highly accurate, reliable and banks a 42h power reserve. It has a diameter of 42mm and a thickness of 10.3mm, making it the perfect size for a wristwatch. The case is made of high-quality stainless steel and has a brushed and polished finish. The bezel is made of ceramic, which is scratch-resistant and gives the watch a modern and sporty look.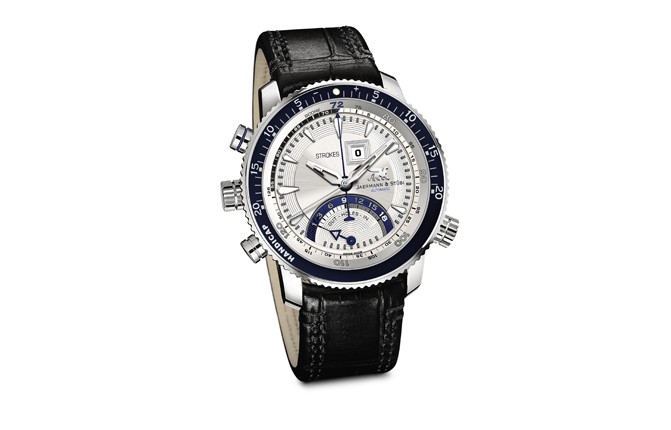 The dial has a golf ball-like design and displays the time in a clear and easy-to-read format. The hands are tipped with Super-LumiNova, which makes it easy to read the time in any light conditions. The watch also features a small date window, which is a useful feature for golfers who need more of a reminder to keep track of time spent playing.
One of the key features of the golf-themed dial is its patented mechanical golf counter. Other functions aside the expected hours/minutes include, large seconds, strokes per hole, total score, holes played, handicap comparison. A mechanical smart watch if you like.
Another important feature of the Hole in One watch is its water-resistance. The watch is rated to 100 meters, which means it can be worn while playing golf in any weather conditions. This makes it a great choice for golfers who want a timepiece that can keep up with their active lifestyle.
In conclusion, the Hole in One watch by Jaermann & Stübi is a stylish and functional timepiece that is perfect for golfers and watch enthusiasts. It combines high-quality materials and innovative design to create a unique and luxurious timepiece that is both practical and stylish. Whether you're playing golf or just looking for a reliable timepiece, the Hole in One watch is a great choice.
Further info: https://www.jaermann-stuebi.com/en/collection/holeinone/ho1.html#
All materials reproduced in good faith – copyright of their respective owners