Classic Confections of William Curley
William Curley needs little introduction to connoisseurs of finest chocolates. He is one of the premier British pâtissiers who discovered his true passion for gastronomy at Gleneagles Hotel where he began his career as an apprentice.
William spent years at Michelin-starred establishments with the most respected chefs and pâtissiers in the industry, names such as Pierre Koffmann (La Tante Claire), Raymond Blanc (Le Manoir aux Quat' Saisons), Marco Pierre White (The Oak Room) and Marc Meneau (L'Esperance) – subsequently becoming the youngest ever Chef Pâtissier at The Savoy working under Anton Edelman and leading a team of 21 pastry chefs.
Representing Scotland at the international culinary events saw him winning Gold in Chicago and Basel, and at the Culinary Olympics in Germany.
His success led to the opening of the first 'William Curley' shop in Richmond Upon Thames in 2004. Late in 2009, he launched the UK's first dessert bar in central London. In 2012, William becomes a member of the most prestigious association for pâtissiers – Relais Desserts International. He was also invited to become a 'Disciple Of Escoffier', which recognises his achievements.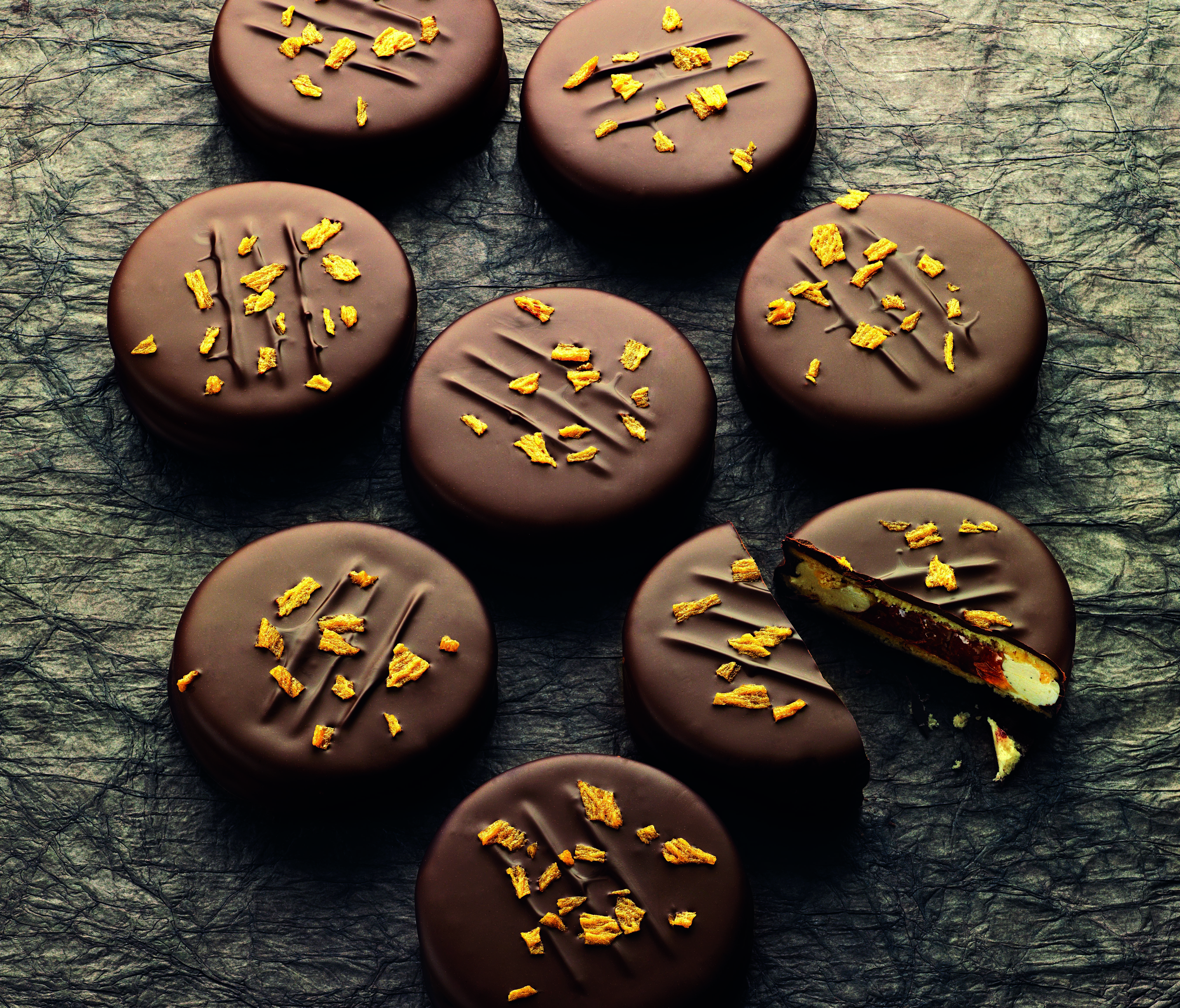 During 2013, William achieved the MCA (Master of Culinary Arts). It is the highest accolade awarded to chefs in the UK. Making him one of only seven masters in patisserie in Britain.
A four times winner of 'Best British Chocolatier' by the Academy of Chocolate. He is renowned for producing the most delicious and inspiring range of handmade chocolates, patisserie and desserts.
Chocolates and patisserie made by William and his team can now be found in the food hall of London's most prestigious department store, Harrods, who stock the finest selection of his chocolates, macarons, biscuits and cakes.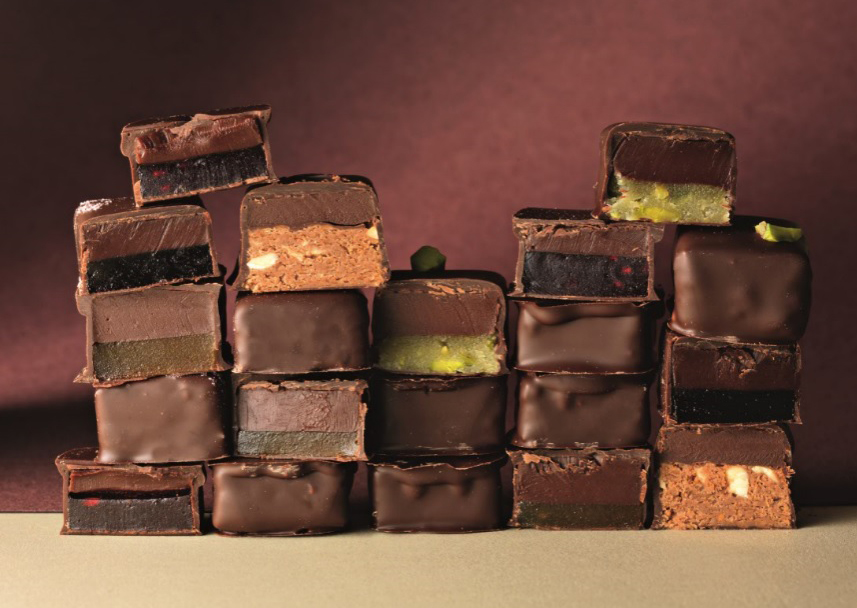 There are so far three books to his name: 'Couture Chocolate', which was awarded 'Cookery Book of the Year' by The Guild of Food Writers Awards; and 'Patisserie', and 'Nostalgic Delights' released late last year.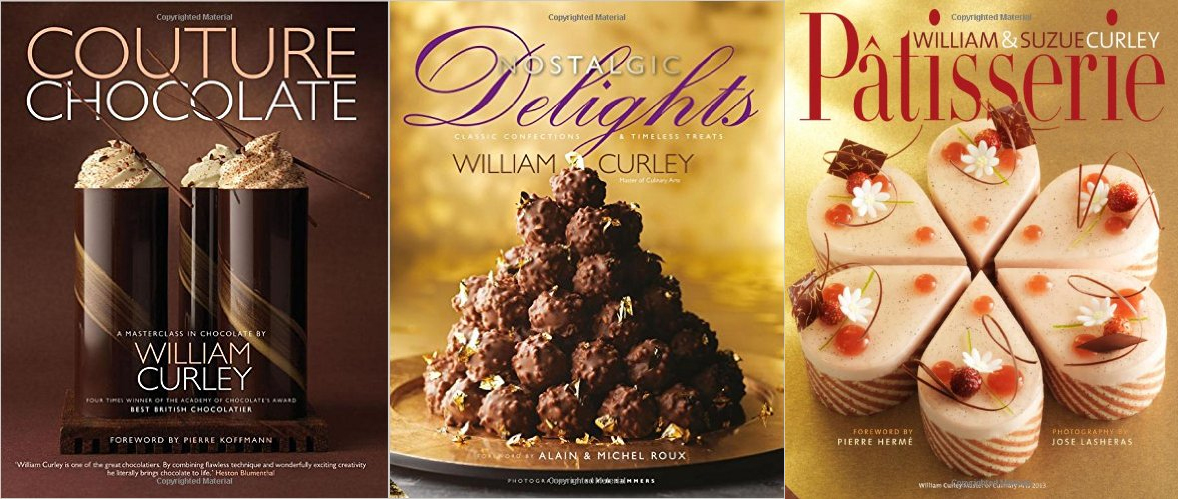 In these delightfully decadent books, William presents the ultimate master classes.
If however one does not have the time (or talent), visiting one of his shops will make sure you are stocked with the best of the best. For those who prefer convenience over immersive experience, filling a virtual cart in William Curley's online boutique might just be the way forward.
---
 William Curley's hazelnut rochers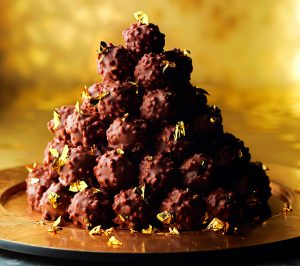 MAKES: 80 chocolates
INGREDIENTS
For the praline ganache
320ml whipping (pouring) cream
1 vanilla pod (bean), split and scraped
40g (invert sugar)
300g Gianduja chocolate, finely chopped
160g dark (bittersweet) chocolate (70% cocoa solids), finely chopped
55g unsalted butter, softened
For the nutty chocolate
500g tempered milk chocolate
250g roasted nibbed almonds
To finish
100g (3½oz/⅔ cup) whole roasted hazelnuts
200g (7oz) feuillantine wafer, crushed
Edible gold leaf
METHOD
To make the praline ganache, put the cream in a saucepan and scrape in the seeds from the split vanilla pod. Bring to the boil, then remove from the heat and leave to infuse for 30 minutes. Strain the infused cream into a clean saucepan, add the invert sugar and bring to the boil.
Put the chopped chocolate in a mixing bowl. Pour the boiled cream over the chocolate and mix until emulsified and a ganache consistency is formed.
Add the softened butter and mix well until fully incorporated. Leave to set at room temperature for about 1–2 hours.
To assemble, put the praline ganache in a piping (pastry) bag fitted with a 12mm nozzle. Pipe small bulbs of the ganache onto a silicone-lined tray.
Put a whole roasted hazelnut onto each bulb of ganache. Pipe a larger bulb of ganache on top of each hazelnut and leave to set for 1 hour in a cool, dry area.
To make the nutty chocolate, temper the milk chocolate and add the nibbed almonds. If the chocolate thickens, warm it slightly.
To finish, roll each bulb into a sphere and coat in feuillantine wafer. Use a dipping fork to dip each prepared chocolate sphere into the nutty chocolate.
Place each chocolate on a silicone-lined tray to set for 1–2 hours in a cool, dry area.
Decorate with gold leaf to finish.
These chocolates will keep for 1 week stored in an airtight container in a cool, dry area.
---
Further delights: williamcurley.com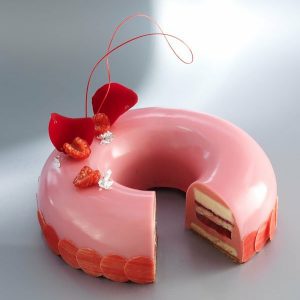 All non-original materials reproduced in good faith copyright of respective owners.