2017 Land Rover Discovery 5 unveiled at Paris Motor Show
The proof that Land Rover is positioning itself to attract a new generation of customers is cemented in the fact, that you can now configure the seven-seater's interior with your iPhone. Seriously.
Other improvements for the all-new Discovery include 480kg weight reduction, 171g/km CO2 emissions, a new 237bhp version of the 2.0-litre Ingenium diesel with 369lb ft, 3.5-tonne towing capability.
Among other tech-leaps included are; the option to add up to nine USB ports, four 12-volt charging points and an in-car 3G Wi-Fi hotspot for up to eight devices.
Comfort
Land Rover claims each of the seven seats will accommodate most full-size adults, and End Rover promises the new Discovery will be more comfortable and versatile than ever.
The almost half-ton weight saving comes from a new monocoque body construction that is 83% aluminium. High-strength aluminium for the crash structure. The entire bodyside (like that of the Jaguar F-Type) is pressed from a single aluminium sheet. This results in a reduced construction complexity and increased structural strength.
Other contributors to the overall reduction include revised exhaust and driveline systems, improved seat design and, revised wheel and tyre sizes Even so, the Disco 5 still weighs upwards of 2000kg.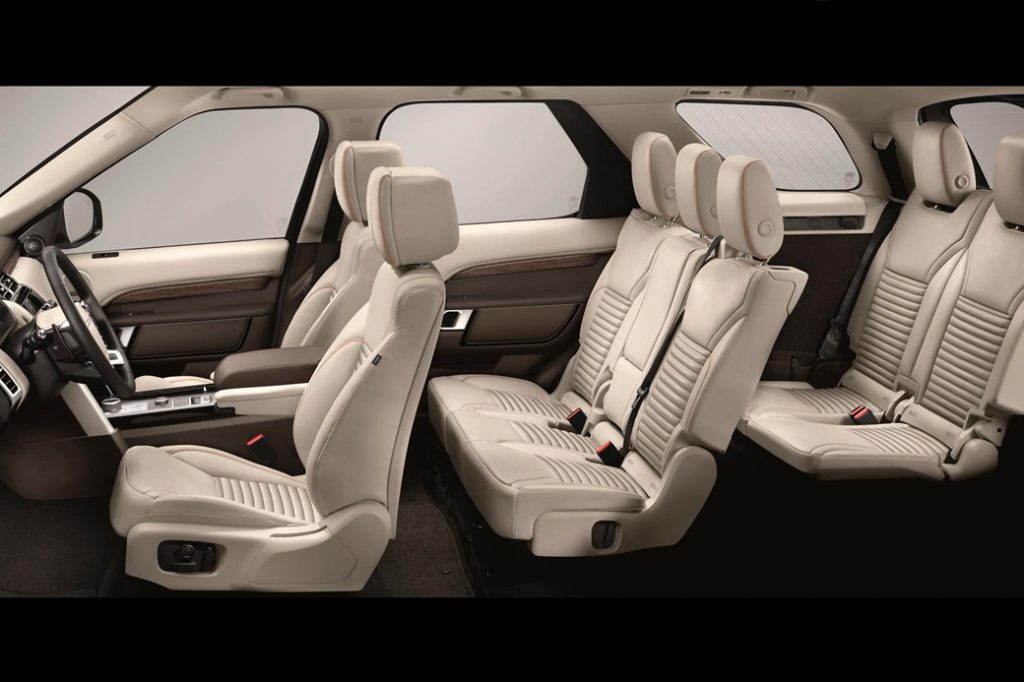 What does the future hold?
The outgoing Discovery's ride quality is legendary, and Land Rover was set to keep this asset while making improvements in the driving behaviour by pairing 'wide-spaced' double wishbone front suspension with an independent integral link rear set-up.
The standard air suspension will help, providing the ability to reduce ride height by 60mm for easier loading – and raise it 75mm for greater ground clearance.
Employing full-time four-wheel-drive system, with a nominal 50:50 split (varies depending on conditions), a two-speed transfer box with synchromesh enabling shifting between high and low ratios at up to 37mph without stopping the car.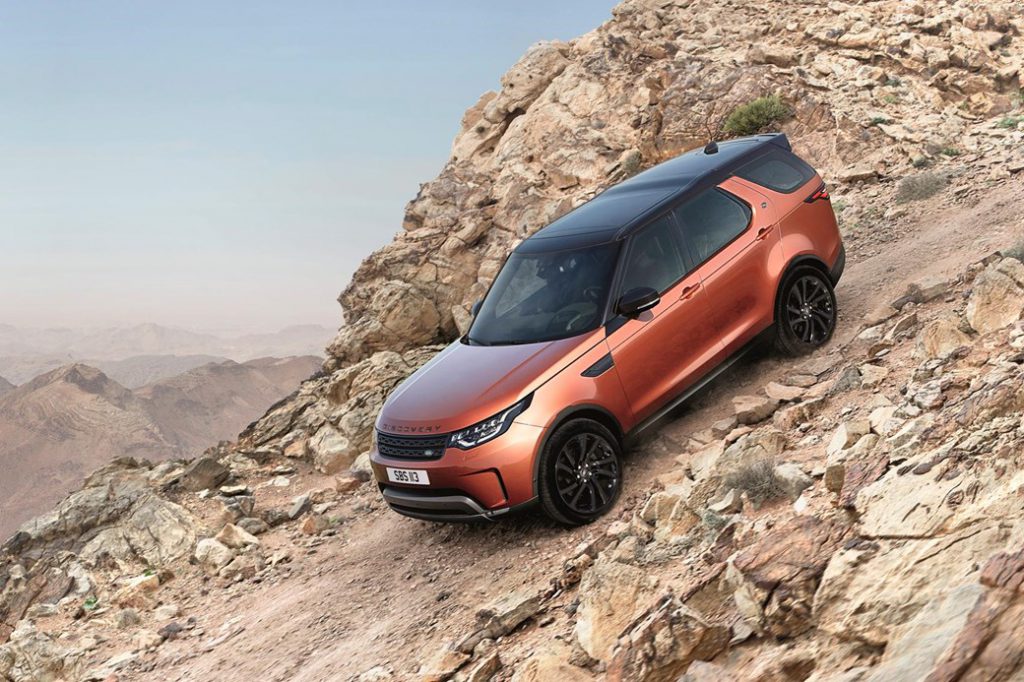 Looks
Sporty rounded looks replace the dated two-box design of previous generations.
The roof step still makes extra headroom for the rear-row passengers, in the 'stadium' seating set-up where each row is slightly higher than the one in front.
Land Rover's Intelligent Seat Fold technology enables the moving of second and third rows using a dedicated panel at the rear or via the central touchscreen in the front, you can also control them with your smartphone.
The idea is that you can reconfigure while you're still in the shop paying for the bulky item you need to get home.
Lifestyle
65% increase in cabin storage, the space in the centre console is large enough for four iPads, the centre armrest can hold five iPad minis (or an optional chiller compartment).
The fixed panoramic roof is the largest Land Rover has ever fitted, Hi-Fi options go all the way up to an 825w Meridian, and JLR's InControl infotainment system are offered. Optional extras list a waterproof Activity Key (for those who actually do drive out too the country/coast).
Packed with the latest roster of modern safety tech, including adaptive cruise control, regular blind spot monitoring, traffic sign recognition, automatic lighting, lane departure warning and lane keep assist.
We await the NCAP score, but judging by the credentials we are not expecting surprises.