Quatre – Signature of the Boucheron Spirit
The Maison Boucheron's iconic jewellery collection offer a distinctively striking combination of golds and textures.
The pieces are re-imagined by the craftsman and gold sculptor though the range of the delightful Quatre collection which embodies the excellence of these modern and boldly designed jewels.
The above pictured Quatre White Edition ring pays homage to the savoir-faire of the Maison Boucheron – sculptors of precious materials. An innovative combination of materials and textures has been merged in order to sculpt and adorn the dazzling white ceramic with the signature details of Boucheron – creating a jewel that is refreshingly modern.
---
RADIANT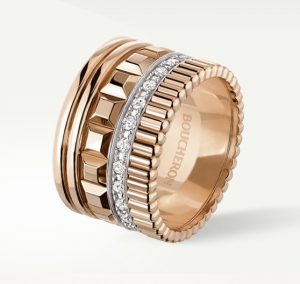 The Quatre Radiant Edition draws inspiration from the Private Mansion of 26 place Vendôme – chosen by Frédéric Boucheronin 1893 for its exceptional amount of sunlight. The ring combines several engraving techniques – inspired by the architecture of Paris. The result is sparkle and texture. The delicate inlay of diamonds brings another level of a stunning and unique aspect.
The Radiant Edition is more than a jewel, it is a jewellery sculpture, a celebration of light. The current line is the most visually graphic and flamboyant so far. Monochromatic in gold, it is a celebration of purity – the essence of Boucheron style.
It is a bold statement of timeless style. A jewel which is both discreet and precious with a signature style.
---
CLASSIQUE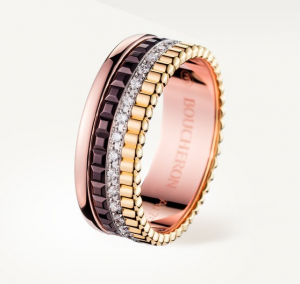 The iconic design element of Maison Boucheron are reincarnated in the combination of materials. Golds, PVD and diamonds are featured in the Quatre Classique line: the Clou de Paris, grosgrains, mirror setting and double godron.
For further information, visit: Boucheron.com