In polo, timepiece perfection is about more than timekeeping. It is the ability to withstand the rigours of the game, and a prestige shared between manufacturer, event and wearer. Lagos Polo Quarterly explores the inextricable connection between polo and the world's finest watches.
From the earliest days of the horological masters there has been the perpetual drive to make watches more advanced, more desirable, more than simply a timekeeping device.
Since those times, high-end timepieces have evolved in many ways. They have improved in precision and reduced in size whilst expanding in functionality. Materials have become more exotic. While metals such as steel, gold, silver, platinum and titanium may still be considered the norm, watches cased in bronze, ceramics, carbon-fiber – and even asteroid fragments and recycled warplanes (certified) – are fast becoming the watch connoisseur's trophy-pieces.
There truly is something for everyone – any taste and budget. Those who like their bling will find a multitude of watches made 'special' by dipping them in 'ice' thus instantly elevating them to the affordability (and taste) of a very few. Those who marvel at the purity and craftsmanship of hand engraving, and who appreciate dials hand-painted using a single hair, are happy to wait for many months in order to take delivery. It is not uncommon for such timepieces to compete in price with a suburban London semi. Purpose and functionality has also changed over the decades. People rarely use their wristwatch to tell time; after all, we all have cell-phones. They have become jewellery, a statement; partnerships between fashion houses, well knownmusicians, sports teams and personalities. They are status symbols, mechanical pieces with exquisite functions catering for niche personal interests such as astrology, music, mechanics or sport.
Polo has not escaped the attention and support of major manufacturers, some of whom have been involved with the sport for many years. They have, in some ways, become an important part of its DNA.
---
Cartier
Cartier has long been a patron of the sport and one of its best known brands despite the fact it has yet to dedicate a range of timepieces to polo. Cartier's presence through sponsorship and through the jewellery, watches, eye-wear, accessories and fragrances sported by the the polo cognoscenti makes it one of the undisputed champions of the game.
---
DeWitt
A relative newcomer to the field, DeWitt made its mark in 2010 by becoming the official timing partner of the Guards Polo Club. That year DeWitt celebrated its involvement – and the 50th anniversary of the Queen's Cup – with the commemorative Dame de Pressy watch for ladies. 25 were created and one was presented to the Queen. For men, 50 limited edition timepieces, inspired by the Twenty-8-Eight Tourbillon model were created, with the first of the 50 auctioned at the Queen's Cup Anniversary Dinner. Another polo classic is the special edition Academia Chronostream, a rose gold and tantalum watch emblazoned front and back with the distinctive logo of Guards Polo Club.
---
Hublot
Hublot is another brand actively involved in sponsorship. It has customized several Big Bangs in celebration of partnerships with polo clubs such as Gstaad and St Tropez. These limited edition watches, tastefully decorated with club logos, are highly coveted specialist collectors' items. Another fine example of customization is Hublot's Chukker Bang. This watch possesses one notable distinction compared to other Big Bangs: its grille front covers parts of the dial and emphasizes the dial setup. The Chukker Bang was designed for and inspired by the game. Since Hublot is the main sponsor of the Polo Gold Cup Gstaad in Switzerland, it seems only right that a variant of one of its watches is dedicated to polo. As if to embody its name, a counter on the dial times 7minutes 30 seconds, the duration of one chukka.
This timepiece is limited to only 500 pieces worldwide. The watch was developed in conjunction with Facundo Pieres, the world famous Argentinian 10-goal polo player and Hublot brand ambassador.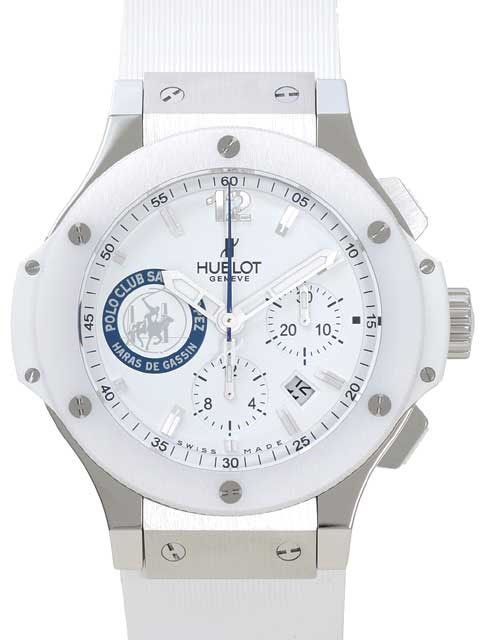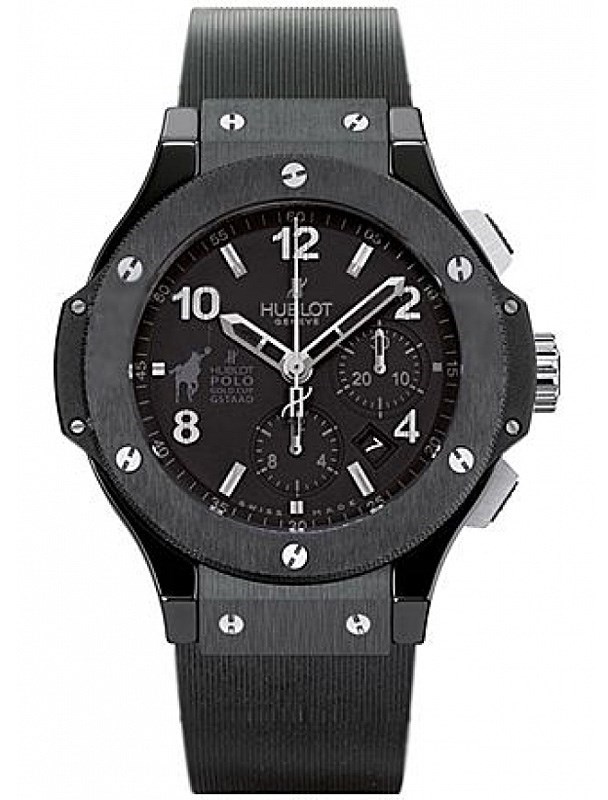 ---
Jaeger LeCoultre
One of the first brands to embrace equestrian sports has since become synonymous with it. Jaeger LeCoultre's polo connection was established through its now legendary Reverso – an art deco classic. Originally designed in 1931, the watch was a response to a challenge set by British officers playing polo in India. They requested a watch capable of surviving the hard knocks of a polo game. The result employed a unique swivel system which made it possible to flip the case thus protecting the watch face during games. The Reverso is more than a sports watch; it remains one of the most iconic models in luxury watchmaking.
---
Parmigiani
It was patronage of the first International Parmigiani Swiss Guards Polo Cup at the Ferme d'Apremont Polo Club du Domaine de Chantilly in 2006 that sealed Parmigiani's association with the game. It was an association further enhanced by the successes of Team Maissen/Parmigiani. Unfortunately, we still await a polo-dedicated watch, but the (Bugatti) Super Sport and Grand Sport Vitesse ranges are certainly worth investigating.
---
Piaget
We end our short journey with Piaget, one of the most discreet manufacturers in the watch industry. Its Polo range (first introduced in 1979) caters for an unusually wide spectrum of tastes and needs. Both ladies and gentlemen will have plenty to choose from. The classy yet (for Piaget) uncommonly sporty Polo FortyFive chronograph deserves a special mention. Its introduction marked a departure from the manufacturer's usual range, becoming Piaget's first titanium timepiece, probably the first to come with a rubber strap and certainly the sportiest. The emphasis at the time of its launch was not on luxury, but on functions, comfort and overall quality. True to the brand, the FortyFive range grew to include a surprisingly large choice both for men and women.
In 2013, the bond between manufacturer, the polo world and its fans took a new turn when Piaget become the La Ellerstina sponsor. The new Ellerstina Piaget team boats a 39 handicap, and looks set to build on two decades of achievement. With different formations, Ellerstina have won 23 Triple Crown tournaments: 10 in Tortugas, 7 in Hurlingham and 6 at the Argentine Open in Palermo.
The evolution of Piaget's polo theme continues and its presence in the sports arena is reinforced by a continuing commitment (for the seventh consecutive year) as title sponsors of the 2014 Piaget Gold Cup at the International Polo Club Palm Beach (announced January 21, 2014).
"Elegance and cultivating a spirit of luxury are what Piaget brings to the International Polo Club and our upcoming 2014 season," said John Wash, president of the International Polo Club (IPC). "Piaget's reputation for excellence and flawless craftsmanship makes them an ideal partner for this prestigious event."
It would be difficult to imagine the world of polo without these names as partners and sponsors. Their reputation and the beauty of their timepieces, coupled with the elegance of the attendees and the displays of gallant ponies, elevates events to a level of prestige few sports can equal.