Unquestionably the coolest wedge-shaped concept car ever created. An inspiration behind some of the most iconic cars of the century.
Based on the race-derived mechanicals of the exclusive 33 Stradale from 1967 season, the Carabo was the fruit of the collaboration between Alfa Romeo and the Bertone styling house. A partnership which had previously produced the 2000 Sportiva and BAT concepts of the mid-1950s.
The H-shaped tubular chassis supported an all-aluminium 1995cc engine, designed by Carlo Chiti and, incidentally, was the first Alfa Romeo V8. The power was transmitted to the rear wheels through a six-speed, syncromeshed, transaxle gearbox, designed by Valerio Colotti, giving it a top speed of 160mph and the ability to dispatch the 0-62mph sprint in 5.5 seconds.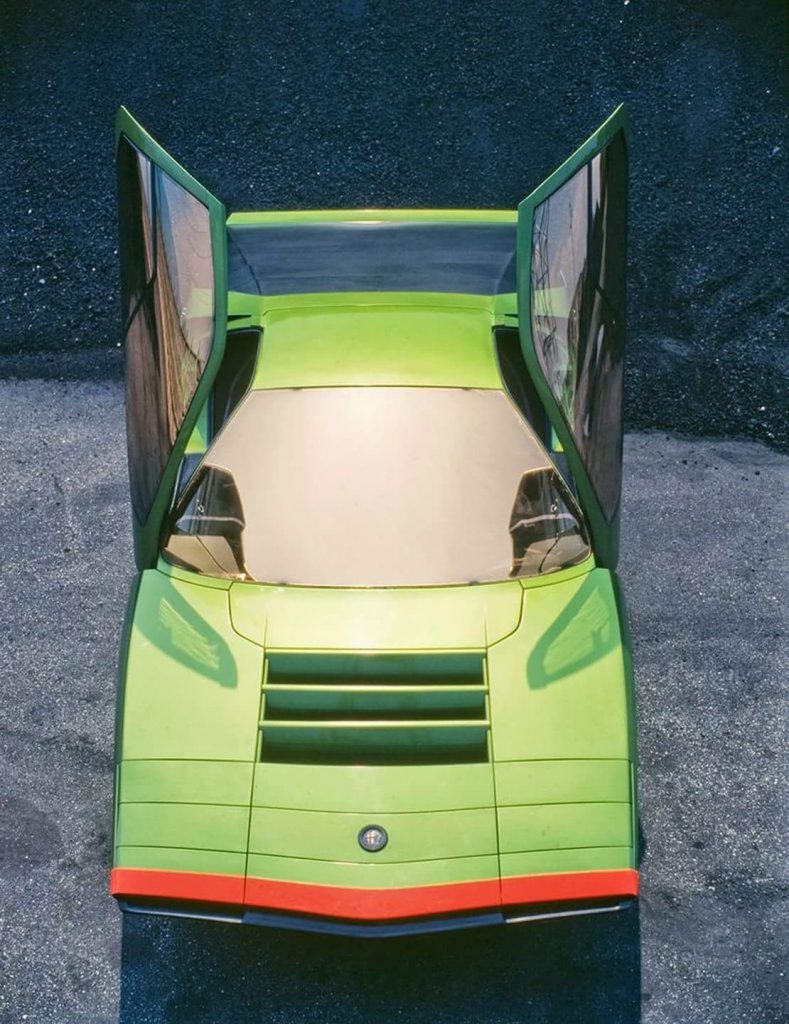 Because of the revolutional underpinnings, designer Marcelo Gandini managed to create a car that would revolutionise the automotive industry for many years afterwards. The midship-mounted engine allowed for a pointed, low-lying front end, while the inherited ground-hugging race car pedigree with the squared-off rear end meant the car was under a metre tall at its highest point. These characteristics inspired many wedge-shaped designs of the next two decades. The shape and colour gave gave the car its name: Carabo. Derived from 'Carabidae', a family of ground-beetles with a distinctive green and gold colour. A fancy moto-roach, if you like…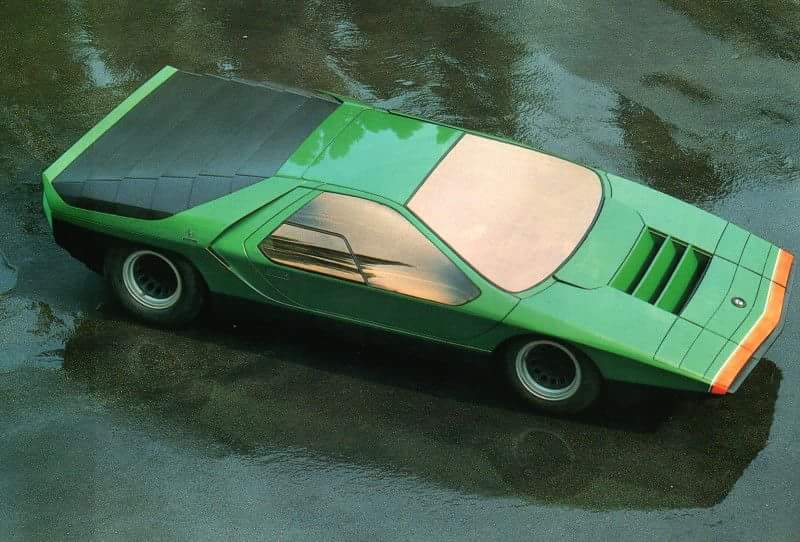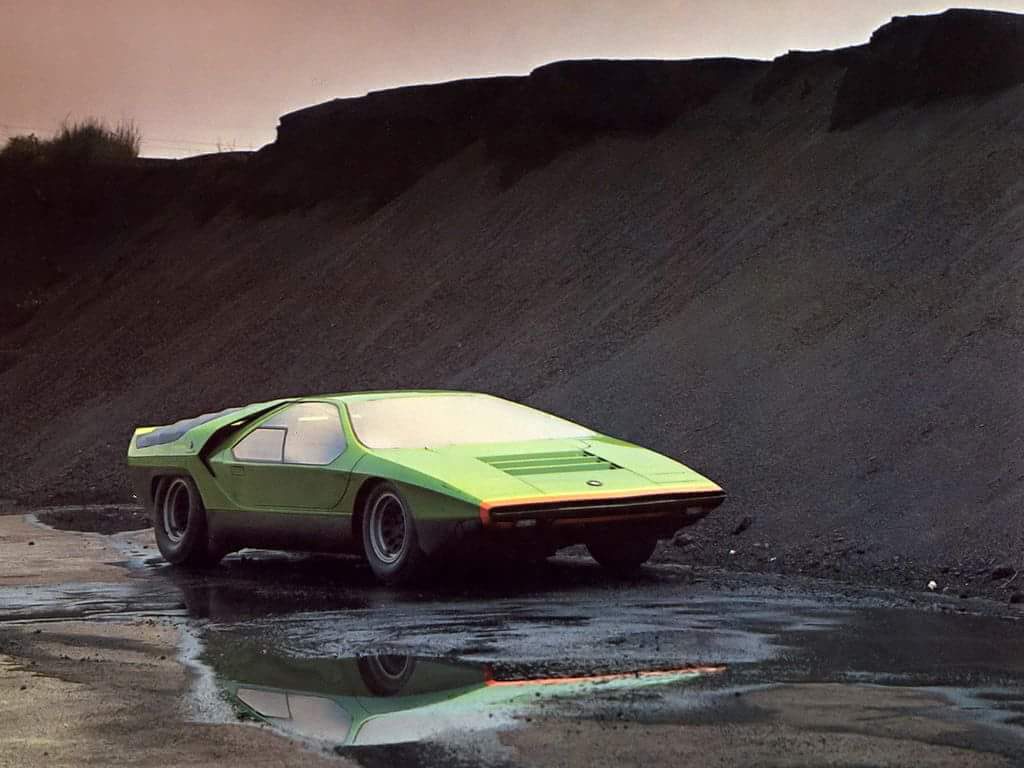 The wedge-shaped profile eliminated the high-speed aerodynamic lift troubles of the Lamborghini Miura was suffering from, which Gandini had penned two years earlier. The orgy of innovation and design didn't stop there: headlights hidden beneath active flaps, front-hinged wing doors. The hinged door concept was later used in the Lamborghini Countach and it provided styling inspiration to the Lancia Stratos Zero, and the iconic Stratos HF (as well as some of the "crafts" in modern day Sci-fi movies).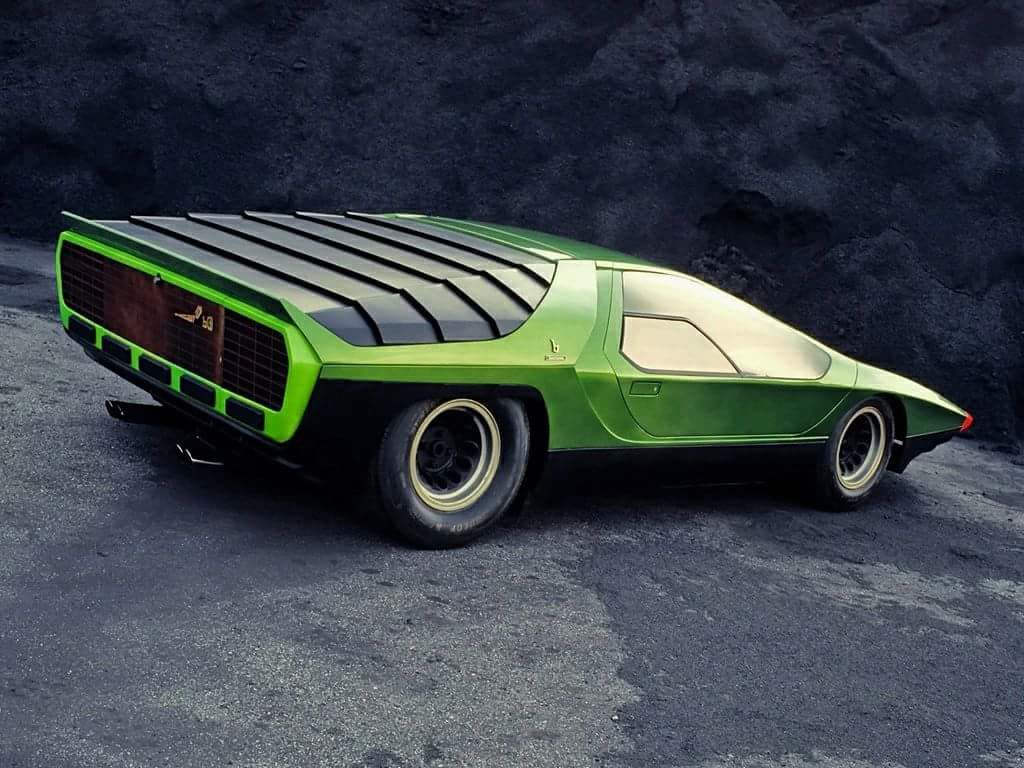 Unfortunately and somewhat unsurprisingly, the Carabo remained a one-off, but its brave styling opened the doors of the automotive industry and product design to a new, radically different path – one which produced some of the landmark supercars cars of the 20th and 21st Century.