Do ultra high-end timepieces always have to be polished and shiny? They don't. Enter: Logical One Enraged and Prestige HMS Enraged.
Logical One
Romain Gauthier's Grand Prix de Genève-winning creation that contains a snail cam and friction-minimising ruby-link chain to offer nearly two days of constant force. Its in-house movement, visible dial side and through the display back, is ingeniously wound using a caseband pusher. It features hours and minutes on an off-centre subdial and small seconds, plus a 46-hour power reserve indicator on the back.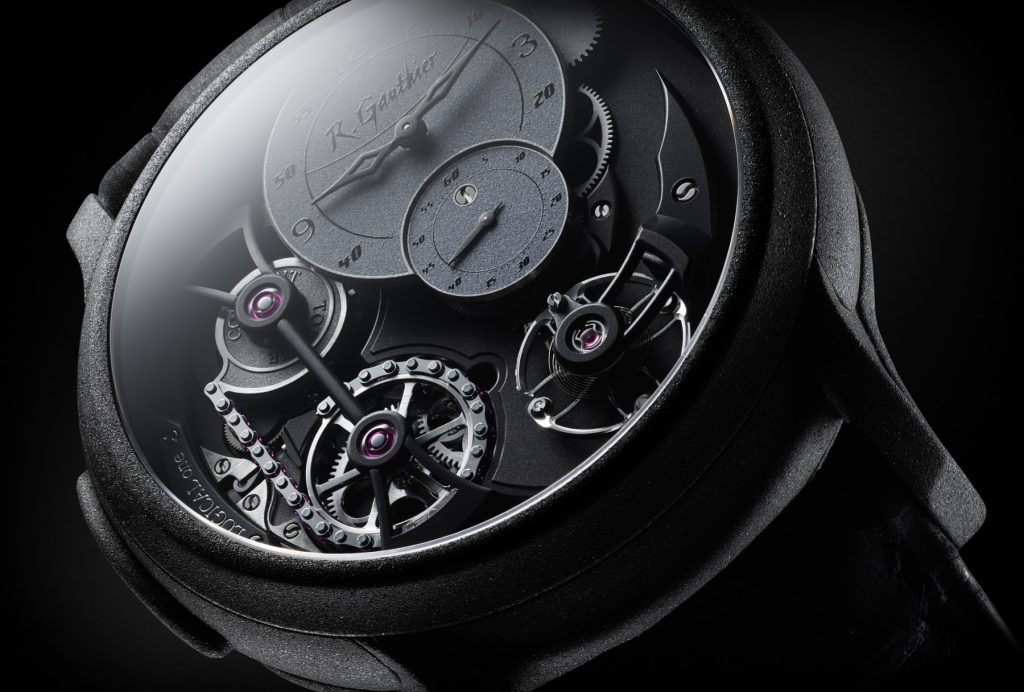 Prestige HMS
The partly open dial and display back offering mouthwatering views of Romain Gauthier's in-house Calibre 2206 HMS, notable for its large-diameter crown configured 'flat' on the caseback for increased winding efficiency. The absence of a protruding caseband crown lends the timepiece a distinctive, streamlined profile.
The movement plates and bridges feature hand-created, rounded bevels and hand-created jewel countersinks in keeping with tradition. But Gauthier has treated them with a decidedly less-than-traditional, light-absorbing matte-black finish.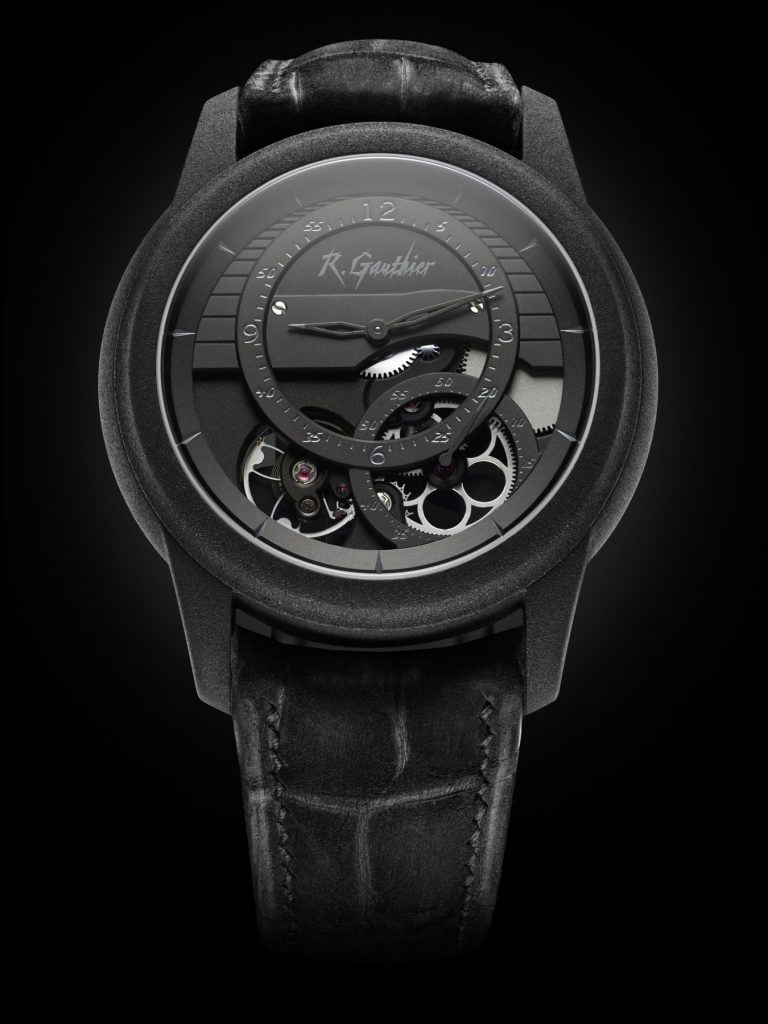 The displays are also darkened and matte-finished. The Louvred brass dial has been hand-frosted then blackened, while for Logical One the same hand-frosting technique has been used to playfully turn the enamel subdials from a glossy black into a rough-textured grey. The hour, minute and second hands are, naturally, matte black, and even the R.Gauthier logo has taken on a spiky form, in appearance and attitude.
As for the bodywork, is made from robust yet lightweight Grade 5 titanium, which has been matte black ADLC treated. The grainy texture created by sand-blasting provides a subtle, intriguing sheen. Even the crowns and, in the case of Logical One Enraged, the winding pusher, bear this rugged, eye-catching finish.
Gauthier has ensured the exclusivity of these timepieces by creating both Logical One Enraged and Prestige HMS Enraged in three editions – with dark accents, red accents or orange accents – with each edition limited to just five pieces.
Gauthier recognises that these Enraged limited editions are not for the faint-hearted. "They have character," he says. "To wear one is almost like wearing a tattoo. They are quite a brutal expression of self-affirmation."
Enraged: Watchmaking at full throttle!