Later this month at the Southampton Boat Show, Sunseeker promises an exciting lineup of premieres and show debuts. 
Sunseeker International, one of Britain's best-known premier yacht manufacturers,  announced its line-up of luxury motor yachts to be on displayed in a weeks time.
Visitors to the the boat show will have the opportunity to be part of two world premieres, Sunseeker's 76 Yacht and the Predator 57 MKII.
Sunseeker 76 Yacht
Promising an unprecedented level of luxury, with socialising and entertaining space, the 76 Yacht gets the balance of size, space and superyacht feel and ability to self-manage (for those looking to self-crew) just right. The expected clever design maximises social and entertaining spaces, whilst the innovative use of glass enhances the amount of natural light reaching the interior, making this a bright and airy boat, ideal for relaxing and entertaining.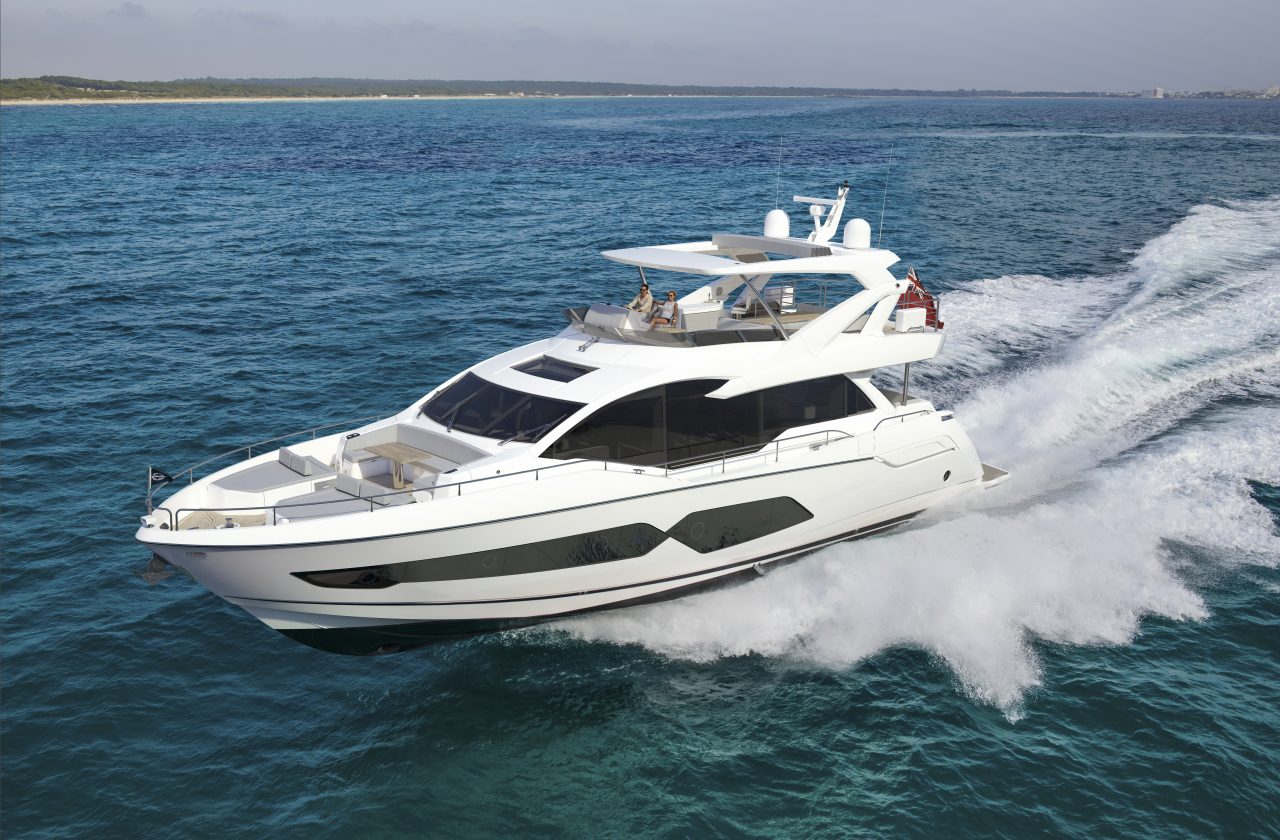 The optional retractable glass skylight over the lower helm, provides an almost open boat experience to the helm, and ideal spot for guests to enjoy the view whilst underway. Natural light flows into the main deck through extended window lines and full-height glazing on the port side.
Exterior decks provide generous space and flexibility that can be can be adapted to suit any needs, whether relaxing, entertaining or both.
The substantial cockpit for example can be adapted to provide additional lounge seating or a cocktail bar for afternoon drinks and the option of a 'beach club' complete with BBQ grill, fold-out seating, full height rain shower and more.
The impressive flybridge is another exceptional feature of the 76 Yacht, and the layout can be further enhanced by the addition of an optional spa-tub and cocktail bar to further complement that 'superyacht' feel.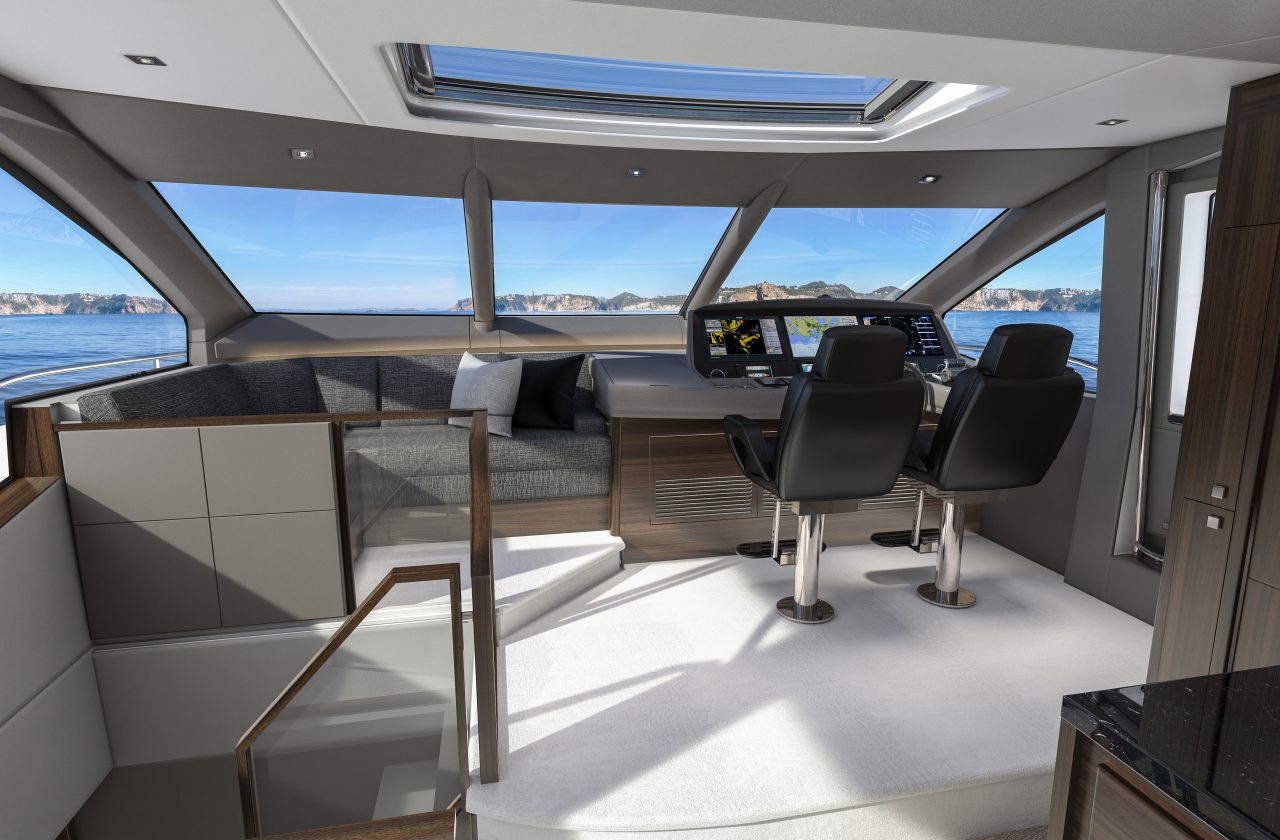 Light and space theme continues below deck, where there are four luxurious cabins and four bathrooms, including an impressive full beam master suite with ensuite and dressing area. The default crew cabin can accommodate up to three people in an open-plan layout or can be opted as an enclosed double berth cabin.
In short, the new 76 Yacht is a full-blooded Sunseeker from the exceptional sea-keeping of the very latest deep-V hull design and impressive use of space throughout the beautifully finished decks – this new yacht is challenging for the new benchmark for her class.
With 18 yachts pre-sold, is already in high demand.
Predator 57 MK II
The latest Predator is not as much a revolution, but an evolution of the hugely  popular Predator 57 which has claimed the spot of the segment leader since its introduction in January 2015, matching all the stand out features of its predecessor with even more elegance and style.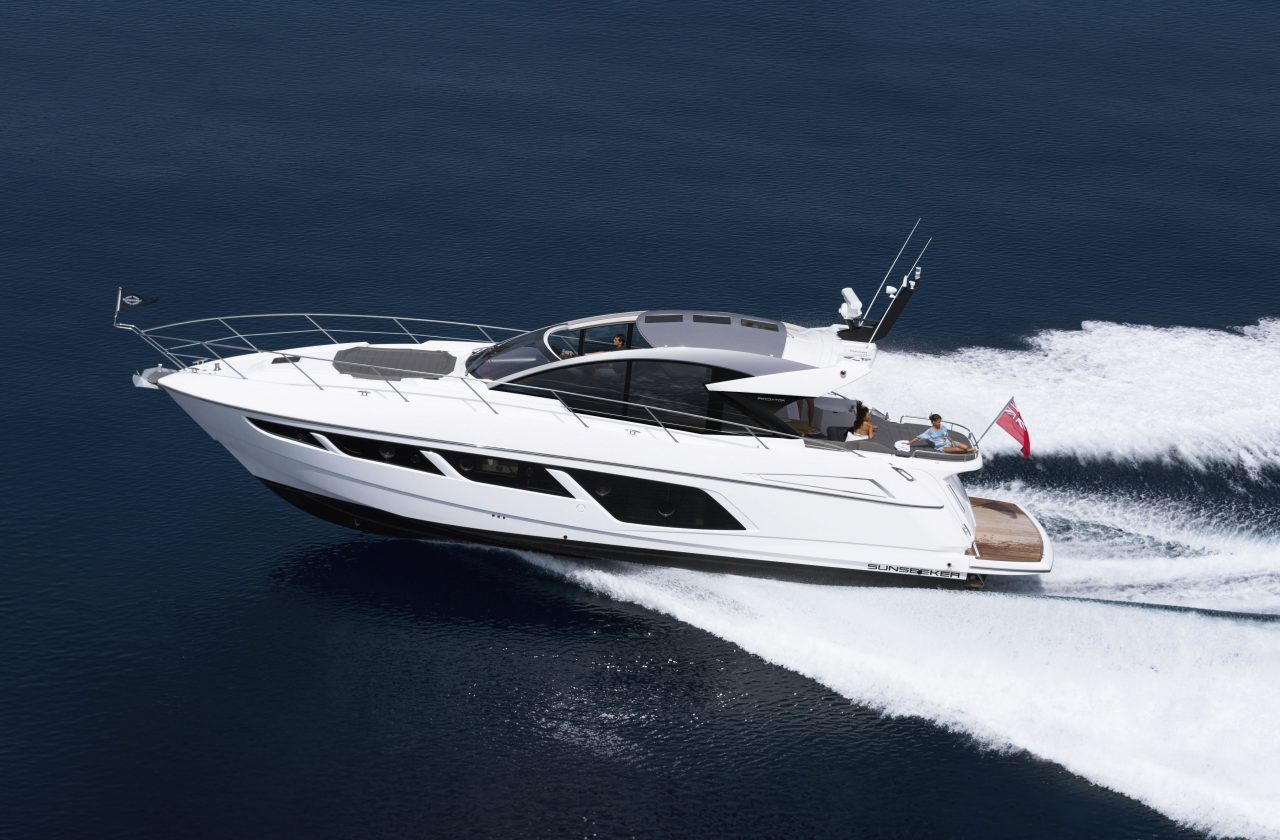 Crafted to perfectly balance style with practicality, the sporty and sleek, the Sunseeker Predator 57 MK II is epitomising the latest Sunseeker design cues. The refreshed exterior boasts sleek oversized pillarless windows down to the side deck which floods the interior with natural light and provides uninterrupted views from the saloon.
The transom area now features a mini beach club, offering an inviting space for family and friends to enjoy the built-in BBQ, 'rain shower' and fold-down transom seating.
The patio door separating the saloon from the cockpit can be lowered at the flick of a switch to create an incredibly generous entertaining space. Features like this  further enhance with fully opening hardtop roof over the saloon enable the 57 MK II to easily adapt to different climates.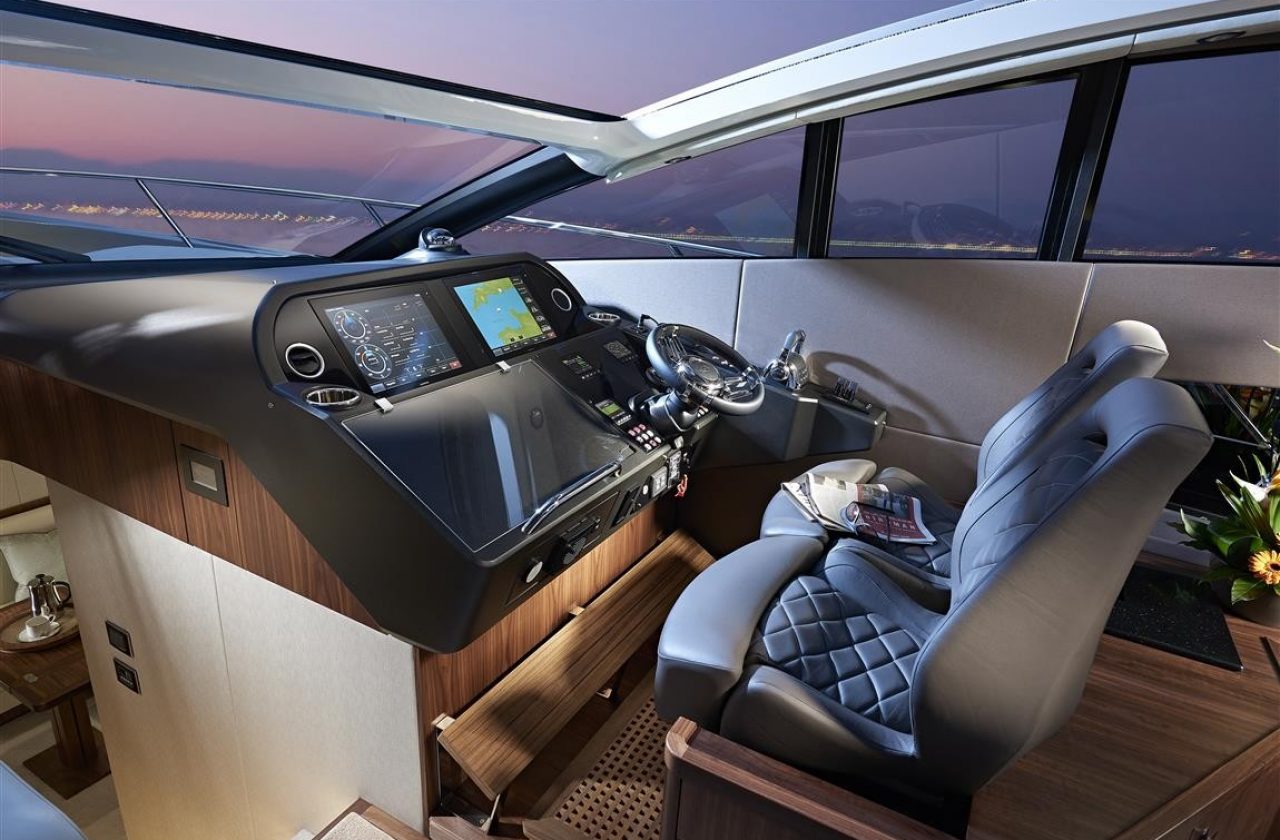 Performance is not traded for style. Certain configurations indicate speeds of up to 40 knots – it is sure to cut an impressive figure on the open water with exemplary seakeeping and superb agility. Featuring six berths in three cabins, with an additional crew cabin for one, the full beam-master cabin is located amidship with ensuite, lounge seating and vanity space.
The Predator 57 MK II is designed for serious luxury cruising and is likely to retain the title of class benchmark-holder for a while yet.
Manhattan 66 – Show debut
Having already sold 43 boats since its launch early this year, this innovative new model for 2017 is designed to maximise space and entertainment options with exceptional panoramic hull and saloon windows providing light living spaces throughout.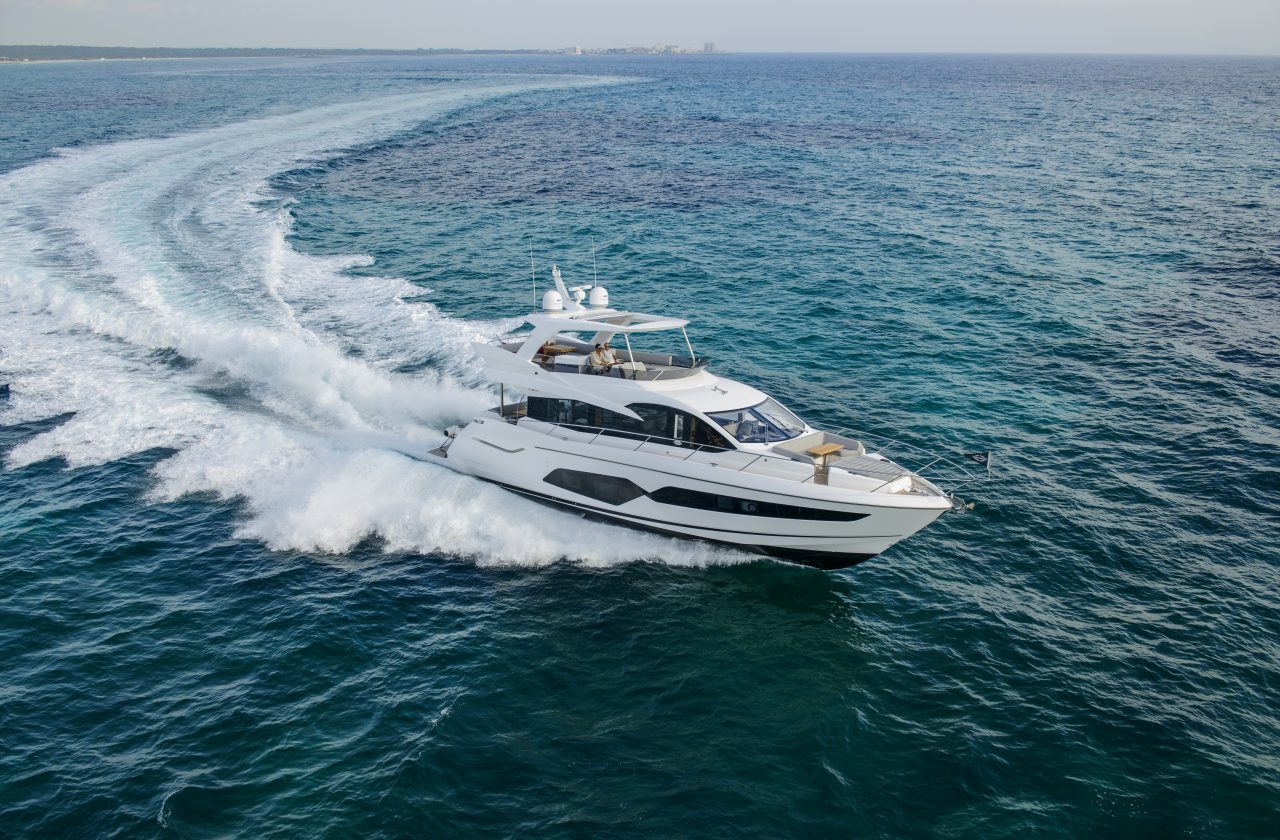 The Sunseeker signature deep V hull offers performance and impeccable seakeeping, whilst the impressive layout with a strong focus on creating generous, useable open-plan, sociable spaces provides ample space on board to rival much larger yachts.
The exterior lines flow elegantly from the bow seating and sunbathing areas to the expansive cockpit adjoining the well-equipped aft galley and saloon on the main deck. Options include a galley below deck, creating an even more expansive entertainment space in the main saloon.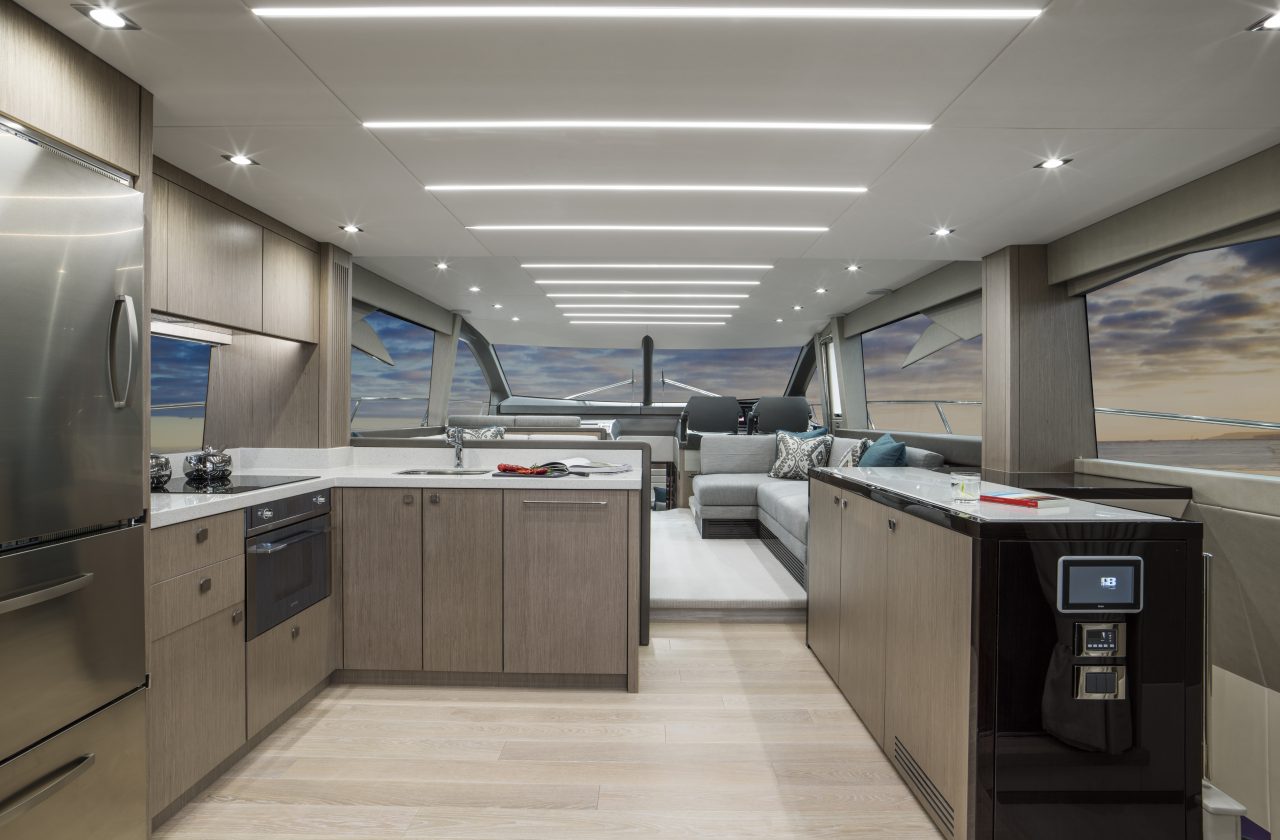 The newly cleverly configured flybridge also helps create the feeling of being on board a much larger vessel and has been designed with relaxation in mind.
The clever design, however does not stop on the flybridge – it continues through to the wide hydraulic bathing platform (capable of launching a Williams 385 Jet RIB) or transom to a 'beach club' where an optional BBQ, fold-down transom seat and overhead 'rain shower'. Features such as these truly set the Manhattan 66 apart from its peers.
 As the galley is situated on the main deck, there is room enough for four very spacious cabins below including two large twin cabins, a forward VIP suite and standout full-beam master suite with its own private stairway access from the saloon; a first for Sunseeker in this size range.
Alongside these magnificent crafts, Sunseeker is also showcasing the, 95 Yacht, Predator 68, Manhattan 52 and San Remo.
The current Sunseeker range consists of 12 boats:
Yacht (155, 131, 116, 95, 86, 75)
Sport Yacht (68)
Predator (68, 57)
Manhattan (66, 52)
San Remo
As customary, Sunseeker International will also be displaying its exclusive range of merchandise, named the 'Sunseeker Collection' at the Southampton Boat Show.
For more information about the Sunseeker Collection please visit www.sunseeker.com
 All materials reproduced in good faith – copyright of their respective owners.